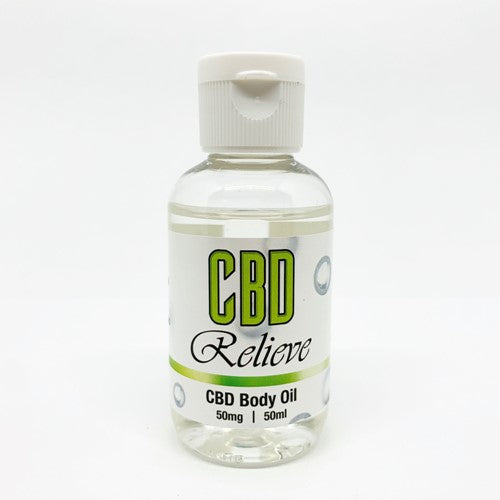 DUE TO COVID-19 AND MULTIPLE LOCKDOWNS, SADLY, WE ARE NOW CARRYING AN EXCESS STOCK HOLDING OF PRODUCTS WHICH HAVE PAST THEIR SELL BY DATES. THE GREAT NEWS IS THAT THE PRODUCTS HAVE BEEN CHECKED / TESTED AND ARE STILL GOOD TO USE FOR AT LEAST 12-24 MONTHS PAST THE DATE SHOWN ON THE BOTTLE SO WE ARE NOW CLEARING THESE ITEMS AT BELOW COST PRICES!
THE DATES FOR THIS PRODUCT RANGES BETWEEN 22/04/2021 - 13/06/2021
This is a smaller sized version of our 100ml / 200mg CBD Body Oil which has been designed around an affordable price point. It is a great way to trial our body oil and is perfect for anyone travelling!
Our 50ml CBD Relieve Body Oil contains 50mg of CBD blended with a selection of naturally soothing ingredients including Essential Aromatherapy Oils, Jojoba Oil and MCT Oil designed to revitalise, reinvigorate and restore. It also has a wonderfully pleasant scent which we know you'll love!

Recommended Use:
Apply on the skin liberally as required
(It is advised to test a small amount on the skin before applying all over.)

For external use only
 
---
CBD Relieve was founded back in 2016 and is now one of the leading brands of CBD products in the UK. CBD Relieve can be found in over 200 vape shops, beauty salons, independent pharmacies & wellness centres across the UK. All products are made using hemp which has been sourced from EU approved hemp farms. 
All products are produced in an ISO 5 laboratory and comply with the legal THC limit in UK which is below 0.02%. Full test reports can found via the 'Test Reports' tab on our homepage which confirms how much CBD is present in each product and that they comply with the legal THC limit to give you peace of mind that you get what you pay for
(Beware of brands that don't provide test reports as this could indicate that what is in the bottle isn't accurate)
PLEASE NOTE: CBD is neither a medicine nor a cure for any illness and by no means do we make any medical claims. CBD can help to maintain and support your health and a healthy lifestyle